Eclectic, immersive and mesmerizing; International acclaimed guitarist and songwriter Hiroya Tsukamoto takes us on an innovative, impressionistic journey filled with earthy, organic soundscapes that impart a mood of peace and tranquility.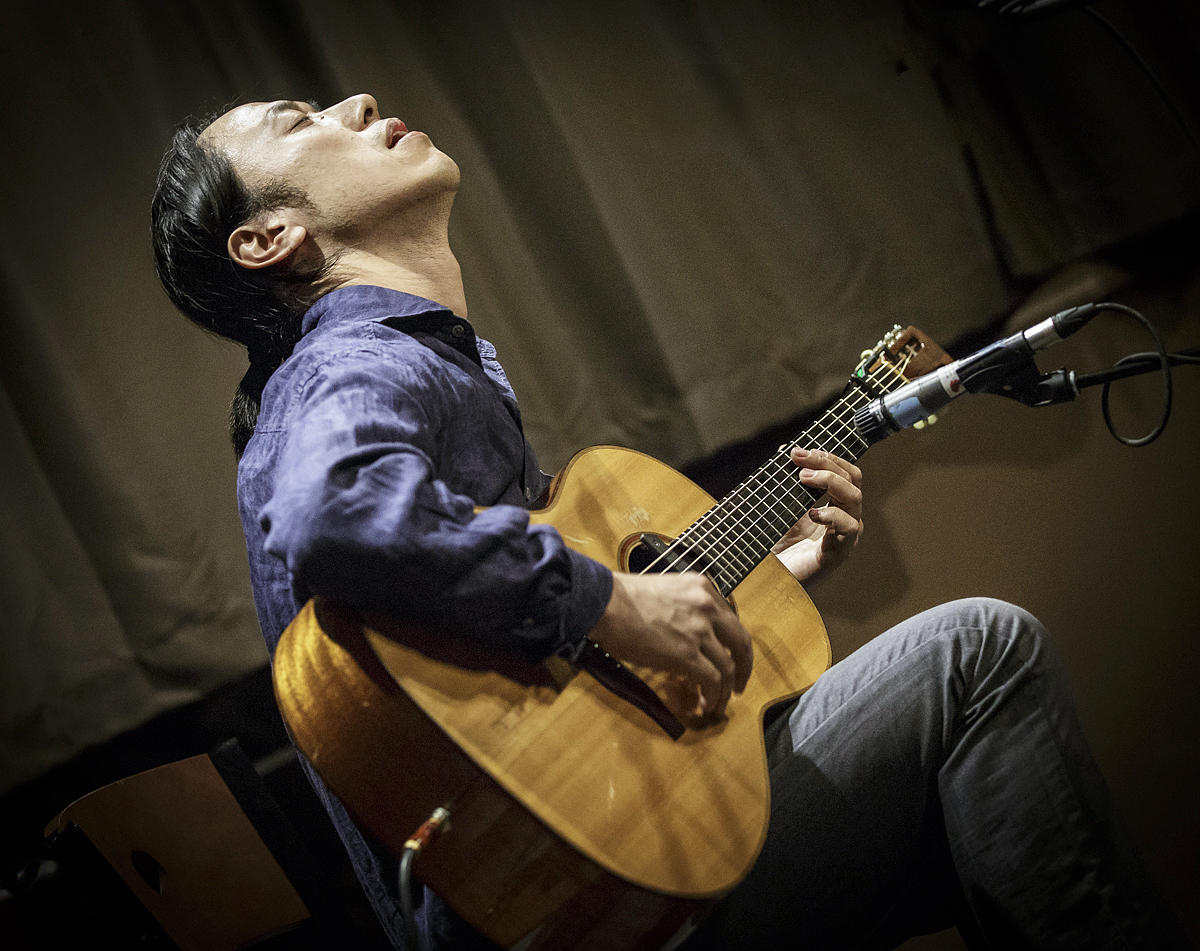 "…chops, passion and warmth. Zealously recommended!"
-Jazz Review.com
"Hiroya takes us to an impressionistic journey"
-Boston Herald
Hiroya
Hiroya is a one-of-a-kind guitarist and composer. Born and raised in Kyoto, Japan and in 2000, he received a scholarship to Berklee College of Music and came to the US. Since then, he has been performing internationally including appearances at Blue Note in New York with his group and Japanese National Television. Hiroya released six albums. Most recently, he won 2nd place in International Finger Style Guitar Championship in 2018.
Curt Mangan String Artist
Hongoh Guitars Artist
Comments from concert organizers and newspaper
"Hiroya's instrumental abilities are indeed breathtaking and astounding, but his performances are so much more than that. Hiroya has the unique capability of engaging an audience thru a personable and genuine approach that transfixes his audience and almost transcends his capabilities as a guitarist. It is an honesty rarely seen, well worth noting and a joy to be a part of". – DeDe Vogt, Performing Arts Director / The Sautee Nacoochee Cultural Center (Sautee, GA)
"Hiroya immediately impressed the audience with his technical prowess on the guitar. Then as the concert progressed, he also revealed himself to be a skilled songwriter, a poetic spirit, and an engaging story teller. With a stage presence that is both humble and confident, Hiroya is a generous performer who won every heart in the house." -Gordon Peery / Monadnock Center for History and Culture (Peterborough, NH)
" The audience at the Three Lakes Center for the Arts will not forget the concert by Hiroya Tsukamoto. His musicality, poetry, humor and skillful delivery of remarkable compositions brought joy to our hearts." -Gay Scheffen / Director of Three Lakes Center for the Arts (Three Lakes, WI)
"…listening to this gentleman's music, all I had to do was close my eyes and be transported to a babbling brook, a deep canyon, or a West Virginia mountainside. If you ever have a chance to catch a performance by Hiroya Tsukamoto, take it, undoubtedly!" -Heidi Royal (Director of Portage Center for the Arts (Portage, WI)
"His style can be described as a blend of folk, jazz, and world music, so I really didn't know what to expect. What I didn't expect, though, was to witness one of the best live guitar performances of my life. But that's exactly what happened. In terms of musicianship, Tsukamoto's guitar work was just ridiculous. Right from the beginning of his first song, it was obvious that the folks in Bernunzio's were in for a treat. His brand of fingerstyle guitar is so intricate, and so blazingly fast at the same time, I kept imagining how many clones I would need to make of myself to accurately replicate his sound. There were times it sounded as if there were two or three guitars playing simultaneously One song that drove that point home was his set opener, "From Coast to Coast", a song that had some of the fastest harmonic runs I've heard." -Trevor Lewis (Rochester Newspaper)

UNIVERSITY / COLLEGE:
University of Massachusetts (Boston, MA)
Kennesaw State University (Kennesaw, GA)
Quinnipiac University (Hamden, CT) Wofford College (Spartanburg, SC)
Osaka University (Osaka, Japan)Clemson University (Clemson, SC)

FESTIVALS:
Rochester International Jazz Festival (Rochester, NY)
Jarasum International Jazz Festival (Jarasum KOREA)

International Festival of Arts & Ideas (New Haven, CT)
New Bedford Folk Festival (New Bedford, MA)

Rhythm 'n' Blooms Fest (Knoxville, TN)

Ossipie Valley Music Festival (Ossipie, ME)

Media (TV):
Ditty TV (Tennessee)
NHK TV (Japanese National Television)
EBS TV (Korea)
Folk Project TV (New Jersey)
VENUES:
Blue Note (New York, NY)
Cumming Playhouse (Cumming, GA)
Sutter Creek Theatre (Sutter Creek, CA)
Springville Center for the Arts (Springville, NY)
Ryles Jazz Club (Cambridge, MA)
Rookwood Music Hall (New York, NY)
Gorham Town Hall(Gorham, NH)
Steve's Guitar (Carbondale, CO)
Four Corner Arts Center (Tiverton, RI)
Bama Theatre (Tuscaloosa, AL)
Caffe Lena(Saratoga Spring, NY)
Velvet Note (Alphareatta, GA)
Two Way Street Coffeehouse (Downers Grove, IL)
Rubin Museum of Arts (New York, NY)
Radio Live (Pensacola, FL)
Lyric Theatre (Lexington, KY)